Business intelligence in Power BI
Power BI is a cloud-based business analytics service that gives you a single view of your most critical business data. Monitor the health of your business using a live dashboard, create rich interactive reports with Power BI Desktop and access your data on the go with native Power BI Mobile apps. It's easy, fast, and free.
You may be using Excel to organize data and visualize it in a chart. This is often time consuming since you have to manually pull all the data from multiple applications and databases. Power BI solves this headache by automatically bringing data from all sources into one central system. You can quickly organize data and build beautiful charts to help you better understand what your data means.
Since Power BI is hosted in the cloud, you can access your data and charts from anywhere, at any time, on any device. You can even share and collaborate on documents with colleagues in real time directly inside Power BI.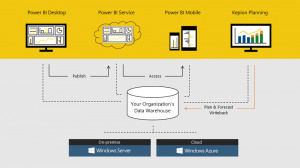 Course Content
Data Transformations:
Introduction to Power BI Desktop
Changing Locale
Connecting to a Database
Basic Transformations
Managing Query Groups
Splitting Columns, Changing Data Types, Working with Dates
Removing and Reordering Columns
Conditional Columns
Merge Queries
Query Dependency View
Transforming Less Structured Data
Query Parameters
Data Modelling:
Managing Data Relationships
Creating Calculated Columns
Optimizing Models for Reporting
Creating Calculated Measures
Creating and Managing Hierarchies
Using Calculated Table
Time Intelligence
Include and Exclude features
Grouping and Binning
Visualizing your Data:
Introduction to charts: Pie, Tree map, Combo charts, Map Visualizations, Scatter plot, Table, Matrix, Gauge, Card, Shapes, Textboxes, Images and KPI
Filter (Including TopN), Date Slicer
Coloring Charts
Page Layout, Positioning, Aligning, Sorting Visuals and Formatting
Visual Relationship
Custom Hierarchies
Working with PBI Service:
Overview of Dashboards and Service
Uploading to Power BI Service
Configuring a Dashboard
Dashboard Settings
In-Focus Mode
Pinning a Live Page
Custom URL and Title
Export to CSV and Excel
Power BI Notifications
Publishing to Web
Working with Excel:
Importing Excel Data using Simple Table
Connecting to Excel Workbook on OneDrive for Business
Pinning Excel Tables or Visuals
Organization Packs, Security and Groups:
Creating a Group
Creating, Using and Editing a Content Pack
Row Level Security
Data Classification
Creating and Using Custom Visuals
---
Upcoming Batches Schedule
| | | |
| --- | --- | --- |
| 14th Dec 2020 | Regular | 7.30 am To 9.30 am |
| 19th Dec 2020 | Weekend | 10.30 am To 02.30 pm |
| 21st Dec 2020 | Regular | 7.30 am To 9.30 am |
| 26th Dec 2020 | Weekend | 10.30 am To 02.30pm |
This table shows all the upcoming batches for the month of December 2020.
---
Contact – Call us at 9372005897/ 8956930899 or fill out this form, and we will be happy to contact you back.