Red Hat Open Stack Administration I (CL110)
Red Hat Open Stack Administration I (CL 110) is designed for system administrators who are intending to implement a cloud computing environment using Red Hat Open Stack® Platform. This course is based on Red Hat Open Stack Platform 10.This course will teach students to install a proof-of-concept, configure, use, and maintain Red Hat Open Stack Platform. The focus on this course will be managing Open Stack using the Horizon dashboard and the command-line interface and managing instances, leaving students with proof-of-concepts.
Objectives
⦁ Get an overview of the Red Hat Enterprise Linux OpenStack Platform architecture.
⦁ Install Red Hat Enterprise Linux Open Stack Platform using packstack.
⦁ Deploy each Red Hat Enterprise Linux Open Stack Platform service manually.
⦁ Manage users and projects.
⦁ Deploy instances and customize instances.
Who Should Attend
⦁ Linux system administrators and cloud administrators interested in, or responsible for, maintaining a private cloud
⦁ IT Professionals wanting to formally learn about OpenStack and how to create a private, public cloud using OpenStack
⦁ IT Companies planning to implement their own private or public cloud
⦁ Candidates looking to enhance the credibility of your resume
Course Outline
Launching An Instance

Organizing People and Resources

Describing Cloud Computing

Managing Linux Networks

Preparing to Deploy an Internal Instance

Deploying an Internal Instance

Managing Block Storage

Managing Object Storage

Preparing to Deploy an External Instance

Deploying an External Instance

Customizing Instance

Deploying Scalable Stacks

Installing Open Stack

Comprehensive Review: Red Hat Open Stack Administration I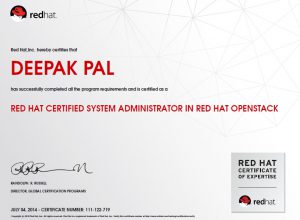 ---
Upcoming batches for the month of June 2018.
04th June 2018

09th June 2018

18th June 2018

23th June 2018
---
For Applicable exam fees Open Stack Administration Certification, feel free to call on 8956930893 / or You can also fill up this enquiry form with your information and we will get back to you.
---
For More Updates on training world see us on http://www.facebook.com/focustrainingservices
---