Oracle Exadata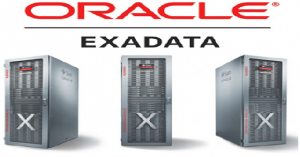 The Oracle Exadata is a computing platform that is specialized and optimized for running the Oracle Database. The goal of Exadatais to achieve higher performance and availability at lower cost by moving database algorithms and intelligence into storage and networking, bypassing the traditional processing layers.
The Exadata Database Machine is a "cloud in a box" composed of database servers, Oracle Exadata Storage Servers, an InfiniBand fabric for storage networking and all the other components required to host an Oracle Database.
The Oracle Exadata Database Machine is an easy to deploy solution for hosting the Oracle.
Database that delivers the highest levels of database performance available.
Course Objectives
This course introduces students to Oracle Exadata Database Machine. You can learn about the various Exadata Database Machine features and configurations, allows to make appropriate up-front configuration decisions. Oracle Exadata equipped instructive case reviews, providing the student more exposure of real time project scenarios.
Understanding Oracle Database and Exadata software and architecture
Learning the uses of offloading processing
Configuration & Administration of Oracle Exadata
Implement Exadata Storage Server Security
Use query execution plans, statistics and wait events to examine Exadata Smart Scan
How to use ASM & Smart Flash Cache?
Learn High Availability and Monitoring
Configure Enterprise Manager Cloud Control 12c in conjunction with Exadata Database Machine
Performance using intelligent data placement.
Gain knowledge on Backup and Recovery
Learn Various options for migrating to Database Machine and how to select the best approach
Concepts of Bulk Loading and Migration
Software Maintenance and Implementing Resource Management.
Oracle Exadata Syllabus
Module 1: Exadata Machine Overview & Architecture.
General Configuration
Classic Database I/O and SQL Processing Model –need to check
Exadata Smart Scan Model
Exadata Smart Storage Capabilities
Exadata Hybrid Columnar Compression Data Organization
Exadata Smart Flash Cache Intelligent Caching
Storage Index with Partitions — need to check
Database File System — need to check
I/O Resource Management: Overview
Module 2: Exadata Storage Server Configuration 
Exadata Storage Server Administration: Overview
Testing Storage Server Performance Using CALIBRATE
Configuring the Exadata Cell Server Software
Creating Flash-Based Grid Disks
Creating Smart Flash Log
Configuring ASM and Database Instances to Access Exadata Cells
Exadata Storage Security: Overview
Exadata Storage Security Implementation
Module 3: Resource Management     
I/O Resource Management: Overview
IORM Architecture
Getting Started with IORM
Enabling Inter database Resource Management
Setting Database I/O Utilization Limits
Inter database Plans and Database Roles
Using Database I/O Metrics
IORM and Exadata Storage Server Flash Memory
Module 4: Optimizing Database Performance
Optimizing Performance
Flash Memory Usage
Compression Usage
ASM Allocation Unit Size
Minimum Extent Size
Optimizing Database Performance with Exadata
Module 5: Smart Scan Overview  
Exadata Smart Scan: Overview
Smart Scan Requirements
Monitoring Smart Scan in SQL Execution Plans
Smart Scan Join Processing with Bloom Filters
Other Situations Affecting Smart Scan
Exadata Storage Server Statistics: Overview
Other Situations Affecting Smart Scan
Exadata Storage Server Wait Events: Overview
Using Smart Scan
Module 6: Migrating Database to ED (Overview on below Points):
Migration Best Practices: Overview
Performing Capacity Planning Overview
Database Machine Migration Considerations
Choosing the Right Migration Path
Logical Migration Approaches
Physical Migration Approaches
Post-Migration Best Practices
Migrating to Databases Machine Using Transportable
Module 7: Exadata Database Machine Platform Monitoring Introduction 
Monitoring Technologies and Standards
Simple Network Management Protocol (SNMP)
Intelligent Platform Management Interface (IPMI)
Integrated Lights Out Manager (ILOM)
Exadata Storage Server Metrics, Thresholds, and Alerts
Automatic Diagnostic Repository (ADR)
Enterprise Manager Grid Control
Enterprise Manager Database Control
Module 8: Configuring EMGC11G To Monitor Exadata Machine 
Enterprise Manager Grid Control Architecture: Overview
Grid Control Monitoring Architecture for Exadata Database Machine
Configuring Grid Control to Monitor Exadata Database Machine
Deploying the Oracle Management Agent
Configuring ASM and Oracle Database Targets
Deployment Overview for System Monitoring Plug-ins
Recommended Plug-in Deployment Strategy
Switch
Module 9: Monitoring Exadata Storage Server  
Exadata Metrics and Alerts Architecture
Monitoring Exadata Storage Server with Metrics
Monitoring Exadata Storage Server with Alerts
Monitoring Exadata with Active Requests
Monitoring Exadata Storage Server with Grid Control: Overview
Monitoring Hardware Failure and Sensor State
Module 10 – Monitoring DB Server  
Monitoring Database Servers: Overview
Monitoring Hardware
Monitoring the Operating System
Monitoring Oracle Grid Infrastructure
Monitoring Oracle Database
Monitoring Oracle Management Agent
Module 11: Monitoring Infiniband 
InfiniBand Network Monitoring: Overview
Manually Monitoring the InfiniBand Switches
Monitoring the InfiniBand Switches with Grid Control
Monitoring the InfiniBand Switch Ports
Monitoring the InfiniBand Ports on Database Machine Servers
Monitoring the InfiniBand Fabric: Subnet Manager Master Location
Monitoring the InfiniBand Fabric: Network Topology and Link Status
Module 12 – Important Maintenance Tasks    
Database Machine Maintenance: Overview
Powering Database Machine Off and On
Safely Shutting Down a Single Exadata Storage Server
Moving All Disks from One Cell to Another
Using the Exadata Cell Software Rescue Procedure
Module 13: Other Monitoring Components  
Exachk: Overview
Running Exachk
Exachk Output
DiagTools: Overview
Using ADRCI on Exadata Storage Servers
Image info: Overview
Image history: Overview
OSWatcher: Overview
Module 14 – Backup & Recovery              
Using RMAN with Database Machine
General Recommendations for RMAN
Disk-Based Backup Strategy
Disk-Based Backup Recommendations
Tape-Based Backup Strategy
Connecting the Media Server Using Ethernet
Backup and Recovery of Database Machine Software
---
Upcoming Batches Schedule
| | | |
| --- | --- | --- |
| 14th Dec 2020 | Regular | 7.30 am To 9.30 am |
| 19th Dec 2020 | Weekend | 10.30 am To 02.30 pm |
| 21st Dec 2020 | Regular | 7.30 am To 9.30 am |
| 26th Dec 2020 | Weekend | 10.30 am To 02.30pm |
This table shows all the upcoming batches for the month of December 2020.
---
FAQ:
What is Exadata?
Oracle Exadata is a computing platform that is specialized and optimized for running the Oracle Database
What is Oracle exadata training cost ?
Oracle Exadata training cost is around 25 k.
Can we get Exadata Hands on or Virtual Lab in this training?
Yes you will get virtual set up.
Is this syllabus help me for Certification for Exadata?
Yes it will help.
Are you giving hands on training on exadata ?
Yes we are giving hands on training on exadata.
Are oracle exadata training videos avaialable ?
Yes oracle exadata training videos available.
Are oracle exadata online training available in your institute ?
Yes oracle exadata online training is available in our institute.
Do you provide oracle exadata tutorials for beginners ?
Yes we are providing oracle exadata tutorials for beginners.