RHCE Certification
RHCE Certification  is reputed lab based exam conducted by Red Hat. Focus Training services is authorized exam center that conducts the exam for RHCE  Pune India.
RED HAT SYSTEM ADMINISTRATION III (RH 294) – RHCE Certification 
RED HAT CERTIFIED ENGINEER – RHCE Pune India
SKILLSET AFTER EARNING THE CERTIFICATION-
Configuring static routes, packet filtering, and network address translation
Setting kernel runtime parameters
Configuring an Internet Small Computer System Interface (iSCSI) initiator
Producing and delivering reports on system utilization
Using shell scripting to automate system maintenance tasks
Configuring system logging, including remote logging
Configuring a system to provide networking services, including HTTP/HTTPS, File Transfer Protocol (FTP), network file system (NFS), server message block (SMB), Simple Mail Transfer Protocol (SMTP), secure shell (SSH) and Network Time Protocol (NTP)
ELIGIBILITY
RHCSAs who wish to earn a more senior-level credential.
Experienced senior system administrators who have not yet certified.
Course participants in Red Hat Training who have completed System Administration I, II, and II, or who have completed the RHCE Rapid Track Course.
Experienced system administrators who require certification for their job or by mandate (e.g., US Department of Defense Directive 8570).
EXAM CODE
EX300 – RHCE Certification- Red Hat Certified Engineer (RHCE 8) exam at Focus Pune India.
COURSE CONTENT for RHCE Pune India.
INTRODUCE ANSIBLE
Describe Ansible concepts and install Red Hat Ansible Engine.
DEPLOY ANSIBLE
Configure Ansible to manage hosts and run ad hoc Ansible commands.
IMPLEMENT PLAYBOOKS
Write a simple Ansible Playbook and run it to automate tasks on multiple managed hosts.
MANAGE VARIABLES AND FACTS
Write playbooks that use variables to simplify management of the playbook and facts to reference information about managed hosts.
IMPLEMENT TASK CONTROL
Manage task control, handlers, and task errors in Ansible Playbooks.
DEPLOY FILES TO MANAGED HOSTS
Deploy, manage, and adjust files on hosts managed by Ansible
MANAGE LARGE PROJECTS
Write playbooks that are optimized for larger, more complex projects
SIMPLIFY PLAYBOOKS WITH ROLES
Use Ansible roles to develop playbooks more quickly and to reuse Ansible code.
TROUBLESHOOT ANSIBLE
Troubleshoot playbooks and managed hosts.
AUTOMATE LINUX ADMINISTRATION TASKS
Automate common Linux system administration tasks with Ansible.
Upcoming Batches Schedule
| | | |
| --- | --- | --- |
| 14th Dec 2020 | Regular | 7.30 am To 9.30 am |
| 19th Dec 2020 | Weekend | 10.30 am To 02.30 pm |
| 21st Dec 2020 | Regular | 7.30 am To 9.30 am |
| 26th Dec 2020 | Weekend | 10.30 am To 02.30pm |
This table shows all the upcoming batches for the month of December 2020.
To see Monthly list of RHCE Pune India candidates click http://www.facebook.com/focustrainingservices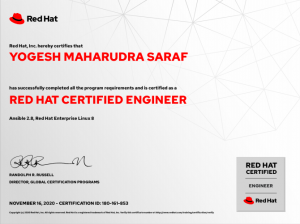 For Applicable exam fees RHCSA & RHCE Certification, feel free to call on 8956930893 / or You can also fill up this enquiry form with your information and we will get back to you.