RHCSA 
RHCSA – RED HAT CERTIFIED SYSTEM ADMINISTRATION 
RHCSA – Red Hat Certified System Administration is reputed lab based exam conducted by Red Hat. Focus Training services is an authorized training partner who conducts authorised Training and Certification program for RHCSA (SAI & SAII ) in Pune, India.
SYSTEM ADMINISTRATION I& II (RH 124 & 134)  

    
SKILLSET AFTER EARNING THE CERTIFICATION
RHCSA
Understand and use essential tools for handling files, directories, command-line environments, and documentation

Operate running systems, including booting into different run levels, identifying processes, starting and stopping virtual machines, and controlling services

Configure local storage using partitions and logical volumes

Create and configure file systems and file system attributes, such as permissions, encryption, access control lists, and network file systems

Deploy, configure, and maintain systems, including software installation, update, and core services

Manage users and groups, including use of a centralized directory for authentication

Manage security, including basic firewall and SELinux configuration
ELIGIBILITY for RHCSA

– 
Experienced Red Hat Enterprise Linux system administrators seeking validation of their skills

Students who have attended Red Hat System Administration I and II and are on the path to earn RHCSA certification

Experienced Linux system administrators who require a certification either by their organization or based on a mandate (DOD 8570 directive)

IT professionals who are on the path to earn a Red Hat Certified Engineer (RHCE®) certification

RHCEs who are non-current or who are about to become non-current and wish to re-certify as RHCEs
EXAM CODE For RHCSA

 
EX200 – Red Hat Certified System Administration (RHCSA) exam
COURSE CONTENT For RHCSA
RED HAT SYSTEM ADMINISTRATION I (RH124)
ACCESS THE COMMAND LINE
Log in to a Linux system and run simple commands using the shell.
MANAGE FILES FROM THE COMMAND LINE
Copy, move, create, delete, and organize files from the bash shell prompt.
GETTING HELP IN RED HAT ENTERPRISE LINUX
Resolve problems by using online help systems and Red Hat support utilities.
CREATE, VIEW, AND EDIT TEXT FILES
Create, view, and edit text files from command output or in an editor.
MANAGE LOCAL LINUX USERS AND GROUPS
Manage local Linux users and groups, and administer local password policies.
CONTROL ACCESS TO FILES WITH LINUX FILE SYSTEM PERMISSIONS
Set Linux file system permissions on files and interpret the security effects of different permission settings.
MONITOR AND MANAGE LINUX PROCESSES
Obtain information about the system, and control processes running on it.
CONTROL SERVICES AND DAEMONS
Control and monitor network services and system daemons using systemd.
CONFIGURE AND SECURE OPENSSH SERVICE
Access and provide access to the command line on remote systems securely using OpenSSH.
ANALYZE AND STORE LOGS
Locate and accurately interpret relevant system log files for troubleshooting purposes.
MANAGE RED HAT ENTERPRISE LINUX NETWORKING
Configure basic IPv4 networking on Red Hat Enterprise Linux systems.
ARCHIVE AND COPY FILES BETWEEN SYSTEMS
Archive files and copy them from one system to another.
INSTALL AND UPDATE SOFTWARE PACKAGES
Download, install, update, and manage software packages from Red Hat and yum package repositories.
ACCESS LINUX FILE SYSTEMS
Access and inspect existing file systems on a Red Hat Enterprise Linux system.
USE VIRTUALIZED SYSTEMS
Create and use Red Hat Enterprise Linux virtual machines with KVM and libvirt.
COMPREHENSIVE REVIEW
Practice and demonstrate the knowledge and skills learned in this course.
RED HAT SYSTEM ADMINISTRATION II (RH134)
IMPROVE COMMAND LINE PRODUCTIVITY
Run commands more efficiently by using advanced features of the Bash shell, shell scripts, and various utilities provided by Red Hat Enterprise Linux.
SCHEDULE FUTURE TASKS
Schedule commands to run in the future, either one time or on a repeating schedule.
TUNE SYSTEM PERFORMANCE
Improve system performance by setting tuning parameters and adjusting scheduling priority of processes.
CONTROL ACCESS TO FILES WITH ACLS
Interpret and set access control lists (ACLs) on files to handle situations requiring complex user and group access permissions.
MANAGE SELINUX SECURITY
Protect and manage the security of a server by using SELinux.
MANAGE BASIC STORAGE
Create and manage storage devices, partitions, file systems, and swap spaces from the command line.
MANAGE LOGICAL VOLUMES
Create and manage logical volumes containing file systems and swap spaces from the command line.
IMPLEMENT ADVANCED STORAGE FEATURES
Manage storage using the Stratis local storage management system and use VDO volumes to optimize storage space in use.
ACCESS NETWORK-ATTACHED STORAGE
Use the NFS protocol to administer network-attached storage.
CONTROL THE BOOT PROCESS
Manage the boot process to control services offered and to troubleshoot and repair problems.
MANAGE NETWORK SECURITY
Control network connections to services using the system firewall and SELinux rules.
INSTALL RED HAT ENTERPRISE LINUX
Install Red Hat Enterprise Linux on servers and virtual machines.
RUN CONTAINERS
Obtain, run, and manage simple, lightweight services as containers on a single Red Hat Enterprise Linux server.
Upcoming Batches Schedule
| | | |
| --- | --- | --- |
| 14th Dec 2020 | Regular | 7.30 am To 9.30 am |
| 19th Dec 2020 | Weekend | 10.30 am To 02.30 pm |
| 21st Dec 2020 | Regular | 7.30 am To 9.30 am |
| 26th Dec 2020 | Weekend | 10.30 am To 02.30pm |
This table shows all the upcoming batches for the month of December 2020.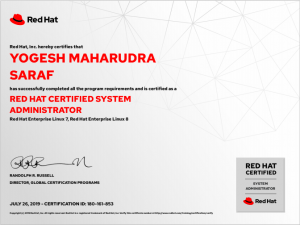 For Applicable exam fees RHCSA & RHCE Certification, feel free to call on 8956930893 / or You can also fill up this enquiry form with your information and we will get back to you.
Happy Learning ! wish you all the very Best