What is Ansible ?
Ansible is a simple automation language that can perfectly describe an Information Technology application infrastructure. With Ansible, Information Technology admins can begin automating away the drudgery from their daily repetitive tasks.
Ansible is an open source automation platform. It is very simple to setup and yet powerful.
Ansible can help you with configuration management as well as task automation. It can also do Information Technology orchestration. For eample, Ansible can upgrade the web servers one at a time and while upgrading it can add the new web server to the load balancer and enable it in your Nagios monitoring system. So in short you can handle complex tasks with a tool which is easy to use.
Some Useful Ansible Terms:
⦁ Controlar Machine: The Machine where Ansible is installed. This machine is responsible for running the provisioning on the server you managing.
⦁ Inventory: An initialization file that contains information about the servers you are managing.
⦁ Playbooks: The Entry point for Ansible provisioning, where the Automation is defined through tasks using YAML format.
⦁ Tasks: A block that defines a single procedure to be executed e.g. Install a package.
⦁ Module: A module typically abstracts a system task, like dealing with packages or creating and changing files. Ansible has a mltitude of buit-in modules, but you can also creat custom ones.
⦁ Role: A pre-defined way for organizing playbooks and other files in order to facillitate sharing and reusing portion of a provisioning.
⦁ Play: A provisioning executed from start to finish is called a play. in simple word, execution of a playbook is called a play.
⦁ Facts: Globle variables containing information about the system, like network interfaces or oprating system.
⦁ Handlers: Used to Trigger service status changes, like restarting or stopping a service.
Ansible allows you to creat groups of machines, describe how these machines should be configured or what actions should be taken on them. Ansible issues all commands from a central location to perfom these tasks. Ansible can also be used to automate different networks.
Ansible architecture is fairly straightforward. Refer to the diagram below to understand the Ansible architecture: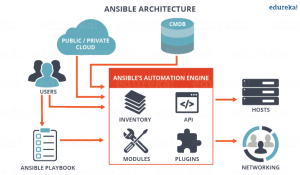 As you can see, in the diagram above, the Ansible automation engine has a direct interaction with the users who write playbooks to execute the Ansible Automation engine. It also interacts with cloud services and Configuration Management Database (CMDB)
---
If you are interested in getting trained in Ansible, Click here. 
---
For Applicable exam fees Ansible Certification, feel free to call on 09371005898 / or You can also fill up this enquiry form with your information and we will get back to you.
---